2015 Thermal Management Product of the Year
Innovation drives solutions in every field of technology, including thermal management.
So, we are pleased to announce the first ever Thermal Management Product of the Year contest, hosted by Thermal Live™.
The 2015 winners have been announced below!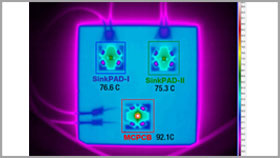 SinkPAD LLC – SinkPAD Direct Thermal Path PCB SinkPAD is a Direct Thermal Path PCB technology. SinkPAD product eliminates use of a dielectric material completely from a thermal path of a high power LED, reducing LED junction temperature more than 10 degree Celsius. SinkPAD offers metal to metal contact between LED's thermal pad and base metal of printed circuit board thus offers best possible thermal transfer rate. Read More View product videos here.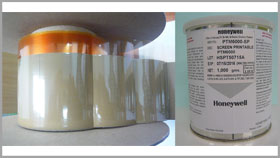 Honeywell PTM6000 thermal interface material Honeywell's PTM6000 series is a highly thermally conductive Phase Change Material (PCM) developed for high reliability applications that maintains excellent performance through reliability testing. Available in pad or paste format, it delivers stable thermal impedance (<0.08˚Ccm2/W) and proven superior reliability: over 3000 hours at 150˚C bake, 4000 temperature cycles (-55 to +125˚C), and 192 hours of highly accelerated stress tests. Read more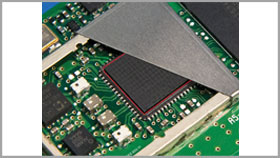 Henkel GAP PAD™ EMI 1.0 With a thermal conductivity of 1.0 W/m-K and EMI absorption for frequencies above 1GHz, GAP PAD EMI 1.0 is the market's first ever extremely low stress thermal interface material that unites thermal conductivity with EMI absorption capabilities. Its ability to conform to various topographies and provide a high degree of flexibility ensures exceptionally low stress on solder joints. Read more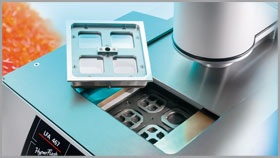 NETZSCH Instruments North America LLC – LFA 467 HyperFlash – Light Flash Thermal Conductivity Analyzer This instrument is used to accurately measure thermal diffusivity and thermal conductivity of electronic packaging materials according to ASTM E1461 between -100 and 500°C by Xenon Flash. The system features patented ZoomOptics, optimizing the field of view of the detector and an ultra-fast sampling rate (up to 2 MHz) enabling measurement of thin and highly conducting materials. Made in USA. Read more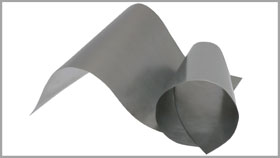 Panasonic – Pyrolytic Graphite Sheet Panasonic's Pyrolytic Graphite Sheet or PGS, is an ultra-thin, lightweight, graphite film with a thermal conductivity high enough to release and diffuse heat generated by heat sources such as CPU's, processors, power amplifiers, etc. With a thermal conductivity up to 4x greater than copper, PGS is extremely pliable and can be applied to heat-source shapes in high density mounting situations. Read more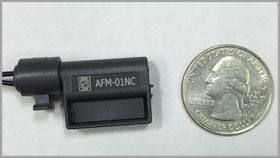 Orion Fans – AFM Series Fan & Filter Fan Air Flow Monitor The AFM Series is a small, low-cost air flow monitoring system for AC or DC fans & blowers. The AFM module protects expensive equipment and systems from heat buildup by operating an optical LED or audible alarm when airflow falls below 8.2 ft/s. It is field retrofittable and mounts via clip to the front or intake side of the fan. Read more and view product video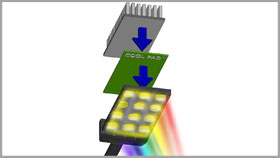 AI Technology, Inc. – COOL PAD CPR7156 COOL PAD CPR7156 is a patented compressible phase-change thermal interface material. It is boron nitride crystallite filled and electrically insulating. Above 45°C, COOL PAD CPR 7156 is compressible for gap filling applications, eliminating trapped interface air pockets and voids and enhancing thermal transfer from power device to heat-sink. At 60ºC, COOL PAD CPR 7156 melt-flows, eliminating trapped air between interfaces. Read more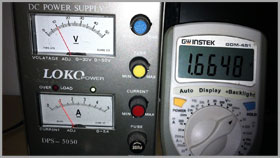 EsDesign – CPU Cooler The EsDesign CPU Cooler performs 3 times better than commercial CPU coolers, with a ∆T of 0.167˚C/W; the best available commercial coolers have a ∆T of 0.44˚C/W.
EsDesign CPU Cooler; non exotic, direct to air, performs better that water cooling. Bill of materials; not expensive. Available for license. For more information, contact Stuart at sds@esdesign.org.